Elizabeth
Cruising the Bourgogne Canal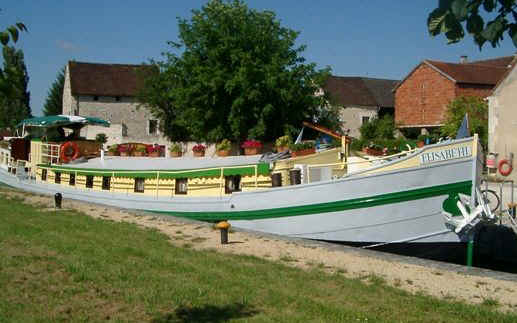 The Elisabeth La Chocolate Cruise for
Wine lovers and Chocoholics
The theme this year is wines and chocolate. From our visits to tasting and demonstrations we hope to surprise you.
SATURDAY TANLAY
Pick up in Paris at 2pm. Drive to the Elisabeth moored in the delightful chateau village of Tanlay. Settle in after a champagne reception and maybe take a stroll around the village. We start our chocolate week with tonight's dessert.
SUNDAY TANLAY / ANCY LE FRANC
This morning we will cruise to Ancy le Franc where we will visit the chateau, beautifully restored and a real delight to visit. Back on board a wine tasting of the local tonneroise wines is in order.
MONDAY ANCY LE FRANC / RAVIERRE
Todays cruise is to Ravierres and here we will depart for a pleasant drive through the villages to Chablis for our wine tasting and a visit to the chocolaterie to hear the history of and taste the chocolate Pillars of Chablis. Back to the barge via medieval Noyer, one of the top five prettiest villages of France.
TUESDAY RAVIERRE / MONTBARD
Today starts with a leisurely cruise to Montbard. From here we will go to Eppoisse for a cheese visit and a wine tasting. For those that are interested we can arrange a cooking demonstration today. Back to Elisabeth for dinner and our second chocolate dessert.
WEDNESDAY MONTBARD / VENERAY LES LAUMES
This morning we will start to notice the climb up the valley to Veneray les Laumes. The cruising just gets prettier as we go. Our visit this afternoon is to The Abbey de Fontenay, a Unesco world heritage site. This wonderful abbey is the last complete cistercian monastery left in France. Tranquility and beauty describe it perfectly. Back at Elisabeth our chef will give a demonstration on the making of tiny chocolate petit fours.
THURSDAY VENERAY LES LAUMES / POUILLENAY
Our last cruise takes us to Pouillenay, a climb up and fabulous views over the countryside. We finish our week with a lunch in the village of Flavigny (WHERE THE CHOCOLAT was made) and a walking tour of the village. From here we will drive the short distance to Alesia to see the site of the last great battle between the Romans and the Gaules. The roman ruins and amphitheatre date back to 345bc. Returning to Elisabeth in time for a rest before Captains dinner and our last chocolate fest.
FRIDAY POUILLENAY / PARIS
This morning we drive you back to Paris after breakfast. We hope you have enjoyed your cruise aboard the Elisabeth.
On alternate weeks the route will be in reverse

2018 Rates
There are no rate records in the database for this ship: Elizabeth
There are no departure date records in the database for this ship: Elizabeth
2019 Rates
There are no rate records in the database for this ship: Elizabeth
There are no departure date records in the database for this ship: Elizabeth